One of the strongest themes in contemporary landscaping is that of a 'new garden', whereby an exterior of a building is treated as an additional outdoor room, providing users with a comfortable area to relax, dine and work.
When you consider that land is increasingly at a premium, more and more outdoor terraces are being created for commercial and residential purposes, by either utilising a roof space or as an added structure onto the side of a building.
Decking pedestals are an essential aid in the construction of a raised floor, and can provide ample opportunities to experiment with inclines, water features, steps and much more; not to mention the practical benefits derived from drainage, paver separation, acoustics, slope correction and so on.
In this post, we offer some 'ideal' features to look out for when specifying decking pedestals for your terrace project. Read on…
Overcoming Challenges Associated with Decking Terraces
Creating a terrace area isn't without its challenges, although, some challenges may be more site-specific than others.
Here's a screenshot of some of the issues you may face on your terrace project. A detailed overview can be found here.
Heavy Foot Traffic
No matter what the purpose of your terrace is, the chances are that it'll be used extensively by residents, employees or members of the public. Heavy furniture and fixtures and fittings will also contribute to the impact that your terrace will endure.
For this reason, strength is of utmost importance. Most decking pedestals will be made with polypropylene plastic, which is, overall, an environmentally friendly and sustainable choice.
Whilst most decking pedestals are constructed with this type of plastic, it is advised that you check the individual pedestals' datasheet for their load-bearing properties. Of course, the higher the load-bearing, the stronger it will be.
The Need to Build Sub-Frames
You may find that due to uneven or unstable existing groundworks, constructing a sub-frame is necessary. This can cause costly project delays that perhaps haven't been accounted for.
However, in many cases, this headache can be removed if you select a decking pedestal that has advanced spacer tabs or joist supports, which removes the need to build a sub-frame. Instead, pavers or deck boards can be laid directly on top of the pedestal and affixed securely in place.
Drainage & Access
In commercial buildings, it will be necessary for property managers or caretakers to access utilities from time to time, so priming and grouting your paving (if using pavers) is out of the question.
Additionally, water pooling can become troublesome (and dangerous) for your terrace area, so due diligence is required here, too.
As mentioned previously, surface materials can be laid directly on top of the pedestal without the need for grouting, meaning that water can find its way in between the deck boards or gaps between the tiles, and if necessary, pavers can be easily lifted for access to the void beneath the finished floor level.
Decking Pedestals for High-Rise Projects
Many terraces will be located on a rooftop or as an attachment to a high-rise building. In this instance, current Building Fire Regulations must be adhered to.
Standard polypropylene pedestals will not be fire-rated unless you select a pedestal that has clearly specified their rating within the relevant performance criteria. Examples of fire-rated pedestals are BC-FR (which is Euroclass B-rated) and A-PED (which is Euroclass A1-rated).
Current Regulations stipulate that 'relevant buildings' above 18 metres in height will require you to utilise materials that have been classified as either A1 or A2 rated.
Approved Document B Fire Safety states,

"...building work shall be carried out so that materials which become part of an external wall, or specified attachment, of a relevant building, are of European Classification A2-s1, d0 or Class A1, classified in accordance with BS EN 13501- 1:2007+A1:2009 entitled "Fire classification of construction products and building elements."
Specified attachments refer only to balconies and anything built on a roof has to adhere to ROOF(t4). Please contact us if you have requirements for BROOF(t4) certified systems.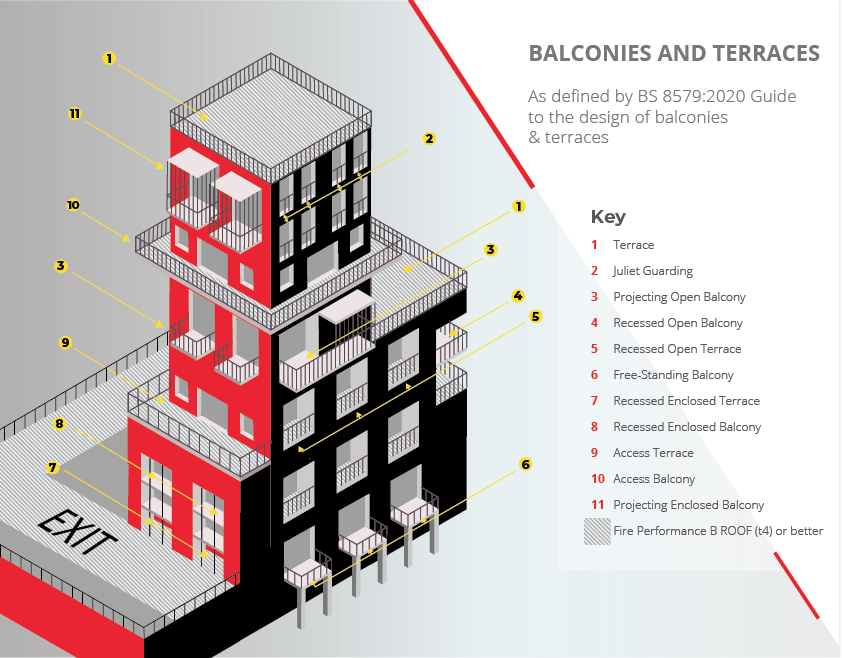 The best pedestals for balconies on high-rise projects
First and foremost, your pedestal must be A-rated to comply with regulations.
However, functionality can vary depending on what manufacturer you choose, so you should opt for a decking pedestal that offers a large load base spreader plate, drainage and paver separation, and slope correction.
To view this in more detail, click here.
Non-Combustible Deck Boards for High-Rise Projects
If you google 'outdoor terraces', you're likely to see an array of attractive timber deck boards. This, however, won't be ideal for your high-rise development, which is why you'll need to consider fire-rated composite decking and other materials that will comply with fire regulations.
There are a number of excellent choices on the market that mimic the look and feel of timber-based deckboards - and even some that provide their own unique aesthetic altogether. Whilst it's advisable to discuss your options with your manufacturer of choice, we recommend Alfresco Floors' fire-rated products, which include:
ZERODECK - A high-quality timber deck board alternative.
Conclusion
Each project is different and will present unique challenges. What's important, however, is selecting a pedestal that will offer the greatest level of capability for your needs.
Whilst pedestals may appear to look similar across manufacturers, minor design intricacies will have a profound impact on what you'll be able to achieve (and within the timeframe permitted) – not to mention the functionality that additional accessories will provide.
If you're working on a commercial or residential outdoor terrace project and need any support, feel free to pick up the phone. We'd love to hear from you.