Adjustable decking supports are the 'unsung heroes' of your external flooring project. They're neither seen nor heard, they appear to serve no influence on overall aesthetic (or so you might think), yet, without them, your project will undoubtedly be compromised.
Type in 'adjustable pedestals' or 'decking feet' or 'adjustable deck supports' into Google and you'll be met with a plethora of solutions to choose from, from a wide variety of manufacturers.
And whilst choice is great, it can often leave specifiers - who are tasked with working on external flooring projects - unsure of what they should be looking for and what will provide the greatest value for their budget.
In this post, we highlight 4 key features that you should be aware of before selecting adjustable decking supports for your commercial flooring project. Read on to find out more…
#1 Your Adjustable Decking Supports Should Be Strong
It's all very well claiming to be 'strong', but you should be working with a manufacturer or supplier that extensively tests their decking supports through a series of compression tests. The results of which should be readily available on the individual products' datasheets.
In addition, the weight of the pedestals are also a good indicator of the thickness of the pedestals – which gives further insight into its overall strength.
The stronger the pedestal, the more flexibility you have. Not only will this allow for greater load bearing, but you'll have no problem installing concrete or porcelain pavers (both extremely heavy materials) on top of them.
#2 Look Out For Paver Separation Functionality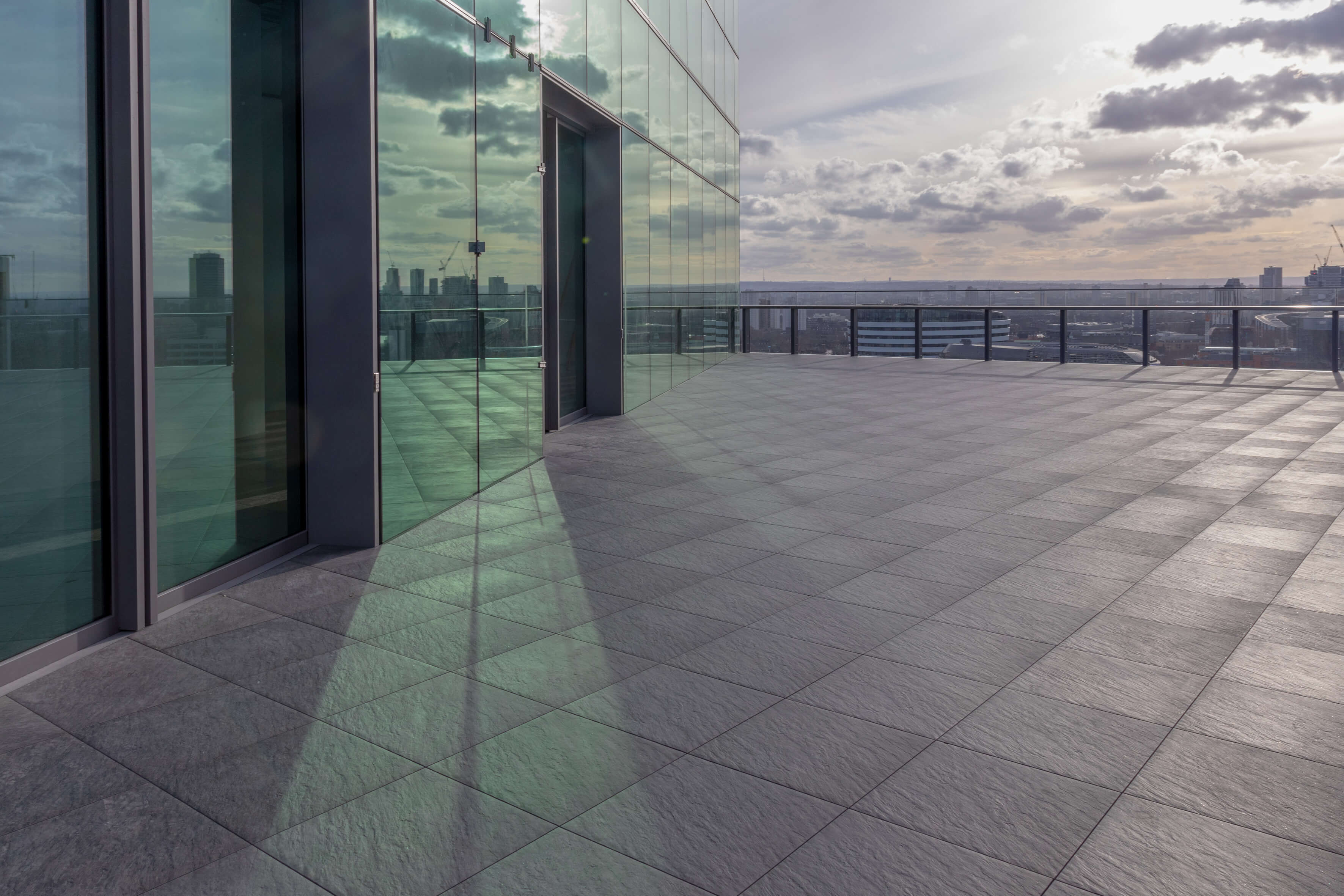 Paver separation is crucial for external flooring on commercial and residential projects. Not only will this contribute to an overall greater aesthetic, but uniformed separation will provide certain practical benefits.
These include drainage, and the ability for your pavers to be lifted for maintenance and access.
So how can paver separation be achieved with adjustable pedestals?
Put simply, you'll need to look out for spacer tabs.
A spacer tab's key role is pretty self-explanatory, and you'll find that most adjustable deck supports have them.
However, the spacer tabs on many adjustable pedestal systems are limited by outdoor areas that are rectilinear in design – not ideal if your project has odd shapes or curves.
Instead, you should consider a system that allows rectangular OR circular tabs to be placed individually on the pedestal head in a position to suit your design.
#3 Your Deck Support Should Have Incline Functionality
A core aim of adjustable pedestals is to support raised terraces and therefore, slope correction has always been a key feature.
However, with land being at a premium nowadays, developers and designers are having to think outside the box when it comes to their outdoor spaces.
It's not unusual to see roof gardens in hotels, balcony gardens in office spaces, high-rise terraces and much more.
With these unorthodox applications, design projects are becoming more challenging and complex, incorporating unusual shapes, edges and even inclines up to 15%.
Let's not forget that steps aren't wheelchair friendly and the use of slopes into your design will allow for DDA compliance.
Many pedestals on the market only allow for a maximum of a 5% incline (and some pedestals don't have any slope-correcting functionality), which isn't ideal when trying to incorporate steeper slopes into your project. In this instance, you should look out for slope correctors that are independent and detachable from the head of the pedestal itself. This will give even greater incline flexibility.
What's more, you do have the option – in some cases – to use slope correctors in multiples, allowing you to achieve an ambitious 15% incline, which opens up a whole world of possibilities.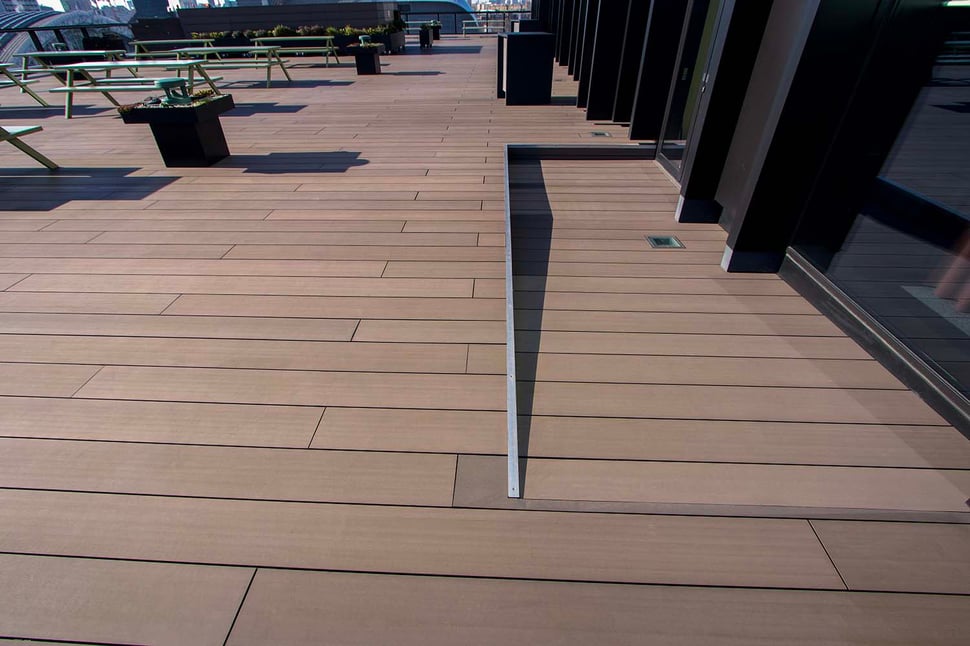 #4 Non-Combustible Pedestals
Many high-rise schemes are calling for fire-rated adjustable pedestals to be used on applications at height, even if they fall below the current 18 metre requirement.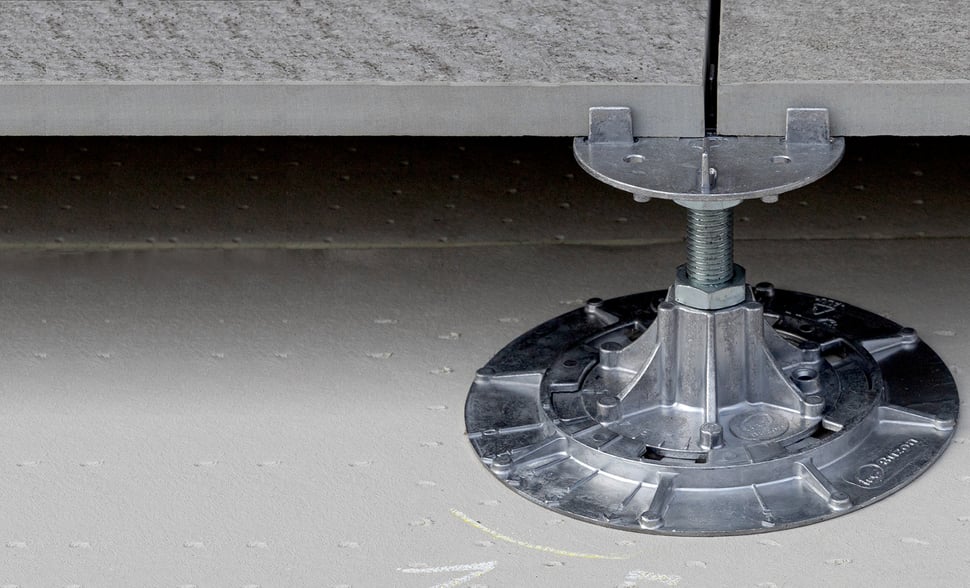 If your project falls into this category, you'll need to specify an adjustable pedestal that is Euroclass A-rated.
Many fire-rated pedestals on the market offer varying degrees of functionality, but it's fair to say that metal pedestals of this type are still in their infancy and don't offer those same design functions of their polypropylene counterparts.
The Buzon A-PED, however, is different. As the most technically advanced A-rated adjustable pedestal system on the market, it provides a large load base spreader plate for use on insulation and waterproof membranes, paving, decking and grating compatibility and 5% slope correction – making for a versatile, fire safe option.
Conclusion
In essence, selecting an adjustable deck support is largely down to the type of project you're working on, with the more complex schemes requiring a greater level of functionality.
At Buzon, we're here to help. Our adjustable pedestals and associated accessories mean that you can create your commercial external flooring with ease, speed and efficiency – without compromising on performance.
If you'd like to talk more about your project, don't hesitate to speak to an expert today.