The trend of blending the outdoors with the indoors continues to grow as architects and designers include luxurious outdoor spaces into their plans and designs in order to create stunning public spaces in traditionally underutilised parts of a building, such as roofs.
In the UK finding space is often the biggest obstacle faced by developers, especially in urban environments such as major cities. Investing in commercial roof terrace design gives architects and property developers a way of making the most of unused areas and achieving a higher return on their investment.
With a range of regulations and potential obstacles in roof terrace design, the process can be quite complex. Here are just a few of the most critical commercial roof terrace design considerations that architects and specifiers should take into account.
Considering Fire Safety In Commercial Roof Terrace Design
The importance of fire safety and adherence to fire regulations cannot be understated. As with any project, it is critical that these important fire safety standards are properly researched and considered from the very beginning.
One of the main Building Regulations affecting commercial roof terrace design is Approved Document B. Within this document the highest-performance roof constructions are classified as BROOF T4. Architects should consider the specifics of their project to determine which level of fire safety is required.
If BROOF T4 is required you must specify terrace build-ups which have been fully tested as a whole system, not individual components or products. Swapping out any element of the certified build-up will mean you are compromising your fire safety and the resultant new build-up will need to be retested and classified.
Weight & Load Bearing In Commercial Roof Terraces
When designing a commercial roof terrace you need to consider the weight that you'll be adding to the roof. Any dead load on the roof, from a fixed planter to an outdoor bar should be considered.
Loading isn't just about how strong the building's structural joists are. Carefully plan the effect the weight will have on things like insulation too.
Your chosen subframe or pedestal system must be strong enough to support the many elements that will go on top of the final floor. This includes decking, furniture, plant beds and foot traffic.
For commercial or domestic purposes, load spreading may be necessary to avoid damaging the insulation membranes.
Quality pedestal systems will come with load-spreading capabilities built-in into the base of the pedestal, or have accessories that meet the requirement. These have been specifically engineered to avoid damaging insulation and waterproof membranes.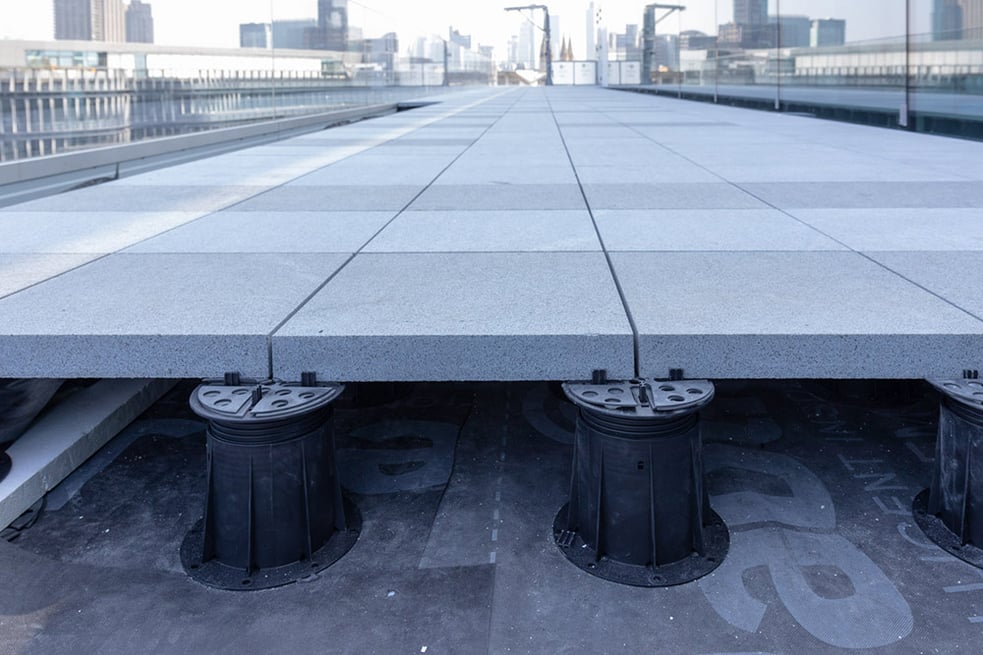 Specifying Drainage Within Commercial Roof Terrace Design
Good drainage protects a building from long-term water damage caused by pooling. Most flat roofs are laid to fall, in order to ensure there is adequate drainage and water runoff.
To facilitate drainage your roof terrace should make use of adjustable pedestal systems, which work with your decking or paving finishes. These pedestals raise the final level of the terrace above the waterproof membrane, helping to drain water and create a level roof surface. Adjustable pedestals such as Buzon's range, come with built-in slope correction to make this process simpler during installation.
Commercial Roof Terrace Design Choices
Modern-day commercial roof terrace designs benefit from a range of products and systems which make it easier to deliver stunning results.
Choosing the right paver or decking is essential to create the desired aesthetic in commercial roof terrace design. Fortunately, there are pedestal systems which are compatible with most decking and paving finishes. Investing in products that ensure full compatibility avoids any long-term issues and helps to deliver a seamless final product.
To create perfect edges, specify edging and perimeter products. These will allow you to achieve clean edges and maintain uniformity in your pavers and decking. You can also deploy these products to overcome design challenges faced when dealing with curves and corners in your building's design.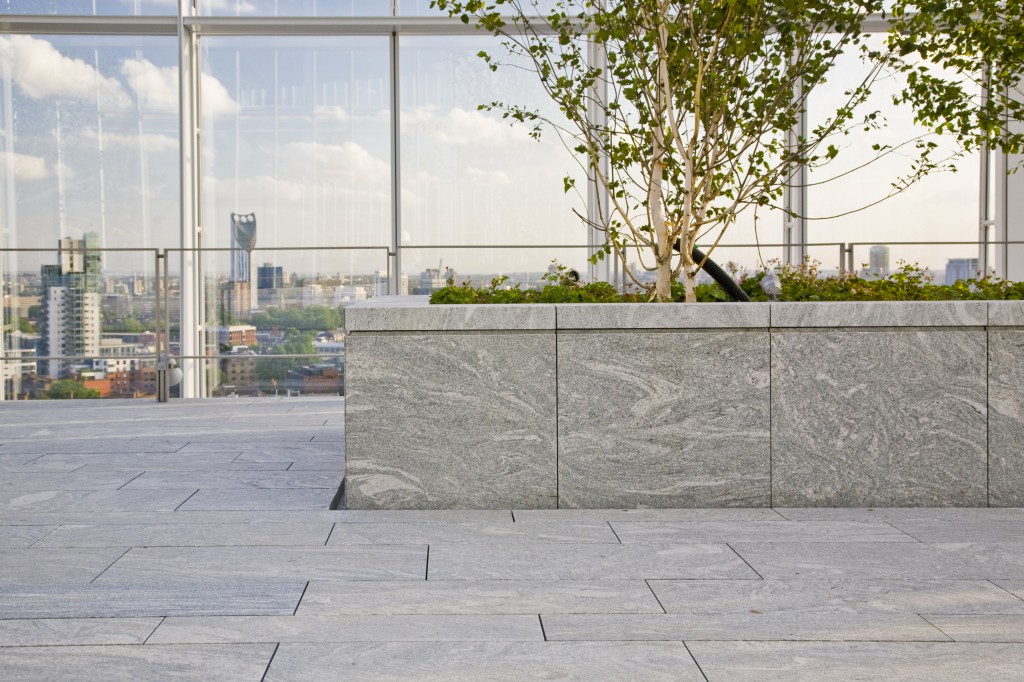 Conclusion
Commercial roof terrace design is a complex process which requires careful consideration and planning from the very early stages. With a range of regulations and technical specifications which need to be met, it's always best to invest in products and systems which have been rigorously tested and have the capability to support all design choices and technical requirements.
If you're looking to create commercial roof terraces in your next development, take a look at the Buzon range of adjustable pedestals. With 5 ranges of pedestals, including two fire-rated options, and a whole host of technical features that will support any design choices and technical requirements.
We also have BROOF T4 solutions in conjunction with roofing and finish suppliers.
If you'd like to discuss your requirements further, don't hesitate to speak to an expert by calling us on +44 (0)20 8614 0874 or emailing info@buzonuk.com.