Alfresco Floors' Class A-fire-rated mineral composite non-combustible deck board, ZEROECK, has officially been welcomed to NHBC Accepts alongside Buzon's fully adjustable Class A fire-rated A-PED, providing additional levels of confidence to clients and the wider industry.
The system comprises of a fully adjustable sub-frame, with built-in slope correction, aluminium joists, and clip-fixed deck boards, all of which are entirely non-combustible. Topped with ZERODECK, not only does the complete system provide a timber aesthetic, a style that is in demand, but it also stands aside from its nearest competitors.
This system is the first external flooring system to be given the certification by NHBC Accepts and continues to pave the way for a safer and more closely regulated built environment.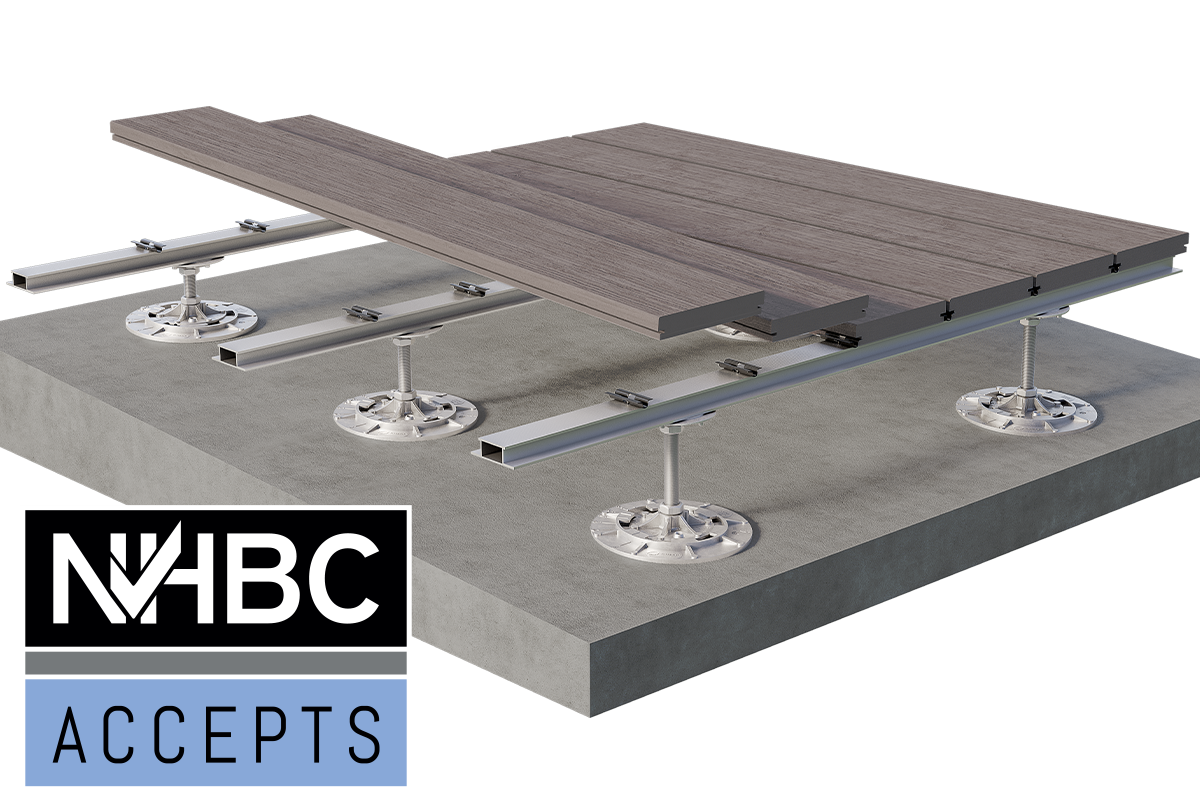 WHAT IS NHBC ACCEPTS?
Allowing products and systems to be fast-tracked for NHBC Warranty, NHBC Accepts is a certification providing an all-inclusive end-to-end service highlighting the safest and most widely tested building materials.
To gain certification, the product or system needs to undergo rigorous testing with detailed and robust technical reviews of the design and manufacture of the product which means that the system is now recognised by an industry-leading body.
"We're delighted to welcome Alfresco Floors to NHBC Accepts," said Richard Lankshear, NHBC's Innovation Manager.
"An NHBC Accepts certificate is a way of demonstrating that innovative products or systems have already been reviewed thus reducing the risk of delays on site.
"NHBC Accepts will play a critical role in ensuring developers, manufacturers, lenders and consumers have faith and confidence in the quality of new homes built with innovative forms of construction."
Having this NHBC Accepts certification means that the system will be included in NHBC's warranties.
You can view the ZERODECK & A-PED System NHBC Accepts Certification here.
FIRE RATED DECKING: WHAT IS ZERODECK?
Resembling timber decking, ZERODECK can provide fire-rated decking for your project without any concerns about combustibility or environmental harm.
Manufactured using mineral composites, this deck board is entirely free of plastic and is class A fire-rated.
Combined with the entirely non-combustible pedestal, A-PED, this system is a perfect fireproof decking solution for both residential and commercial properties.