When designing an outdoor space – whether it's a balcony, walkway, terrace or any external flooring area – it can be easy to focus on the end result. After all, your job is to create a space that wows your client (and their customers!).
In a bid to create the perfect tiled, paved or decked area, however, there's one thing you must factor into your design: water drainage.
Water pooling is not only an eyesore – it's also a slip hazard, and left untreated, could cause damage to your surface finish and other floor components. It may even cause damage to the building.
So, how can water drainage be addressed within the design of your external floor? Read on to find out…
Your Adjustable Paving Pedestal Design is Key
When specifying adjustable pedestals, a key design feature to look out for is the natural void it creates beneath the surface. A void will allow rainwater to run under your external flooring application, whilst concealing any cabling, pipework and drainage channels.
Drainage holes in the base of the adjustable pedestal are also a design feature not to miss, as they allow water to pass through them without pooling on any part of the pedestal itself.
Paver Spacers Should Be Considered
For water to run under the surface, it needs to work its way through. For decking applications like timber and composite boards, this is fairly simple since the boards create a natural space for drainage.
But for paved applications, this can be a challenge. And if pavers are fixed together too closely, you will encounter pooling.
To overcome this, the use of paver spacers, or 'spacer tabs' as we prefer to say, is crucial.
Versatility is key here and you shouldn't just opt for a 'one-size-fits-all' spacer tab option. Instead, select a pedestal range that offers a variety of width and shape spacer tabs to accommodate different shapes and styles of pavers.
Don't forget the edge/perimeter of your flooring area
A major problem area for water build-up is around the edge/perimeter of the flooring – in other words, the part of the floor that connects the indoor to the outdoor space. If left, this water can begin to seep into the building, causing wall and floor damage.
Adjustable paving pedestals alone won't combat this issue. You will require the use of accessories that have been specially designed to be used around the edges of a terrace.
Buzon's U-EDGE is a versatile edge support that can be used with the entire range of Buzon pedestals. It creates a quick and easy solution to complete the edge of a terrace allowing for the installation of small cuts of paving (from 2 cm upwards) around the perimeter. It can be used with any size of spacer tab and all shapes of paving.
Here's a short animation on how the U-EDGE works.
Consider Grating for The Edges of Your Paved Area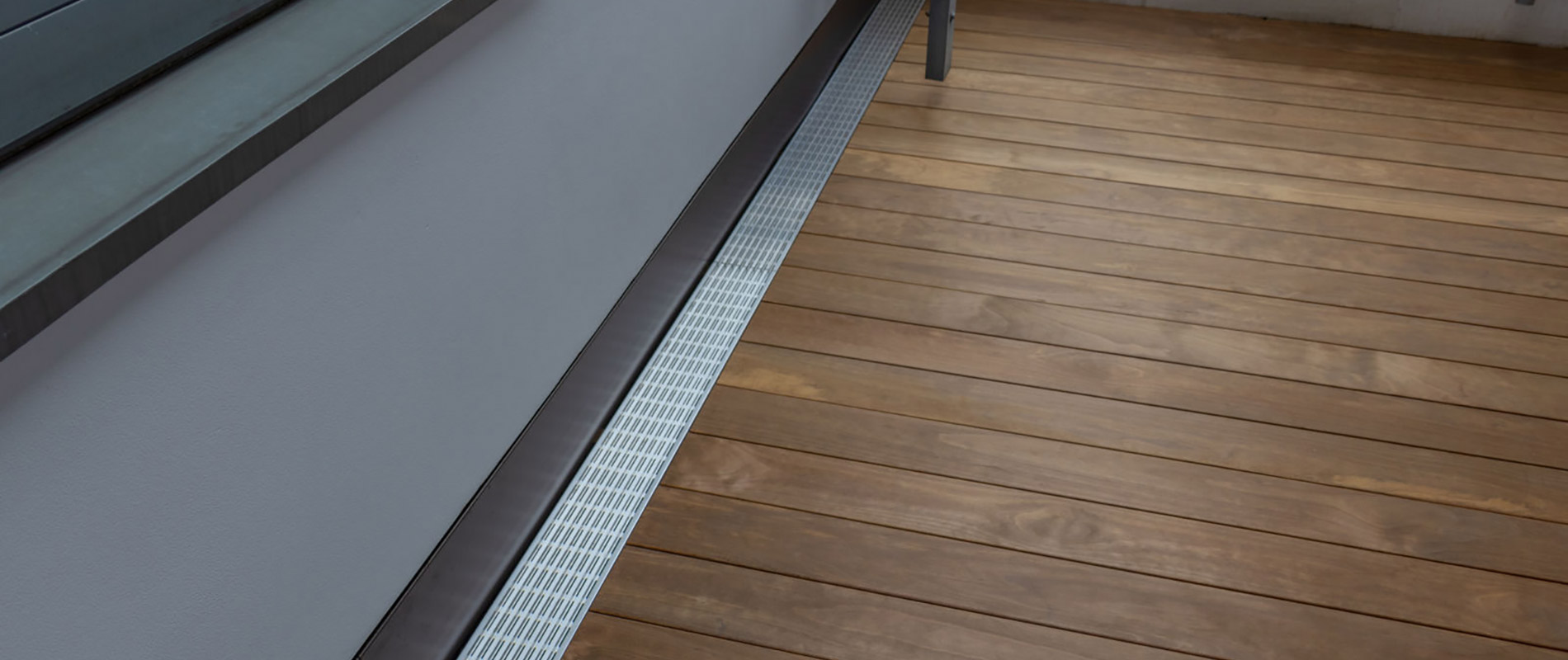 Your client may wish to go the extra mile in protecting the building façade from water splashback, particularly around door or window areas.
A grating product is a worthwhile investment in this instance, and the Buzon ALUgrate has been designed to prevent splashback from occurring.
It has a special geometry that 'traps' rainwater, which then falls directly onto the weatherproof membrane or insulation layer below.
Whilst its core purpose is to prevent splashback, it looks great, too, and can add that finishing touch to the edge of your decked or paved area.
Conclusion
Whatever pedestal or accessory you specify, you should have 'water drainage' factored into its design. Features to look out for are:
A natural void
Drainage holes in the base and head of the pedestal
Accessories such as paver spacers and perimeter edging products
Grating for areas near doors and windows
If you'd like to discuss your requirements further, don't hesitate to speak to an expert by calling us on +44 (0)20 8614 0874 or emailing info@buzonuk.com.