If you are designing buildings at height, it may be easy to forget that Building Fire Regulations differ depending on what area of a building you are working on.
For example, the building fire regulations for roofs are different to those for balconies.
Roof systems are tested (and rated) as a complete build-up, rather than relying on the rating of the individual components or products, whereas balconies are component-led, meaning each component must be A-rated.
The 'system-led' approach applied to roof terraces means that all components – from membrane right up to surface material – are rated as a whole. As such, the components of the tested system cannot be swapped or replaced for other products, unless the resultant new 'system' has also passed the correct testing.
Let's take a further look into the difference between roof terraces and balconies.
Balconies Vs Roof Terraces: The Difference
Building Regulations clearly differentiate the two, classifying balconies as 'Specified Attachments' – i.e. something that is 'attached' to an external wall.
NHBC and BS8579 go on to further distinguish roof terraces and balconies, agreeing:
Attached balconies are differentiated from roof terraces in that they are not habited or conditioned spaces and are usually bolted to, or cantilevered from the external wall. This also includes most inset balconies.
For the purposes of Approved Document B, roof terraces are not deemed to be balconies – making the fire rating requirement different.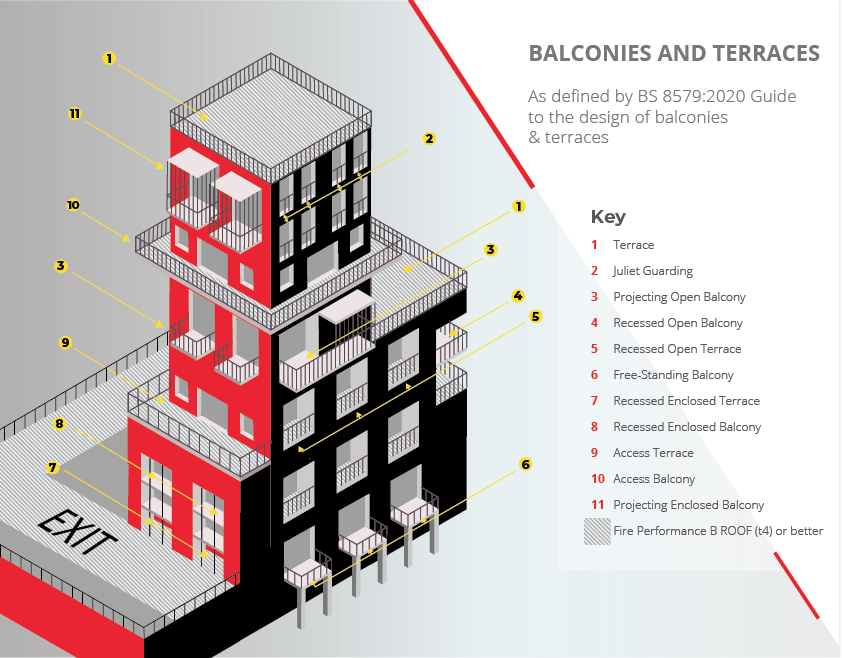 Does This Make Things Harder for The Specifier?
We've outlined that a 'system-led' approach must be applied to roof terraces, meaning all components need to be tested as a whole.
At first glance, this appears to put enormous pressure on the specifier. Firstly, you need to ensure you specify the correct individual components, and secondly, you need to ensure those components pass a series of tests as a whole.
This may complicate product selection and negatively affect project delivery.
Is there a way to simplify product selection?
Yes. It is now possible to purchase an 'off the shelf' roof system which includes insulation, membranes, Buzon pedestals and surface materials which, combined, have been tested together and provide a certification of B Roof (t4).
If you'd like more information, don't hesitate to get in touch.
We're now going to take a deeper look at the B Roof testing process…
Fire Safety: Approved Document B: Key Changes
Prior to 2019, the National Classification System, BS 476-3:2004 was used to determine external fire performance for roofs. This is no longer the case. Now, we refer to the European Classification System BS EN 13501-5.
This European classification system comes with five ratings:
B Roof(t4)
C Roof(t4)
D Roof(t4)
E Roof(t4)
F Roof(t4)
B Roof(t4) is the highest rating, whilst F Roof(t4) is the lowest.
The BS EN 13501-5 refers to four separate roof tests. These tests measure the performance of a roof's resistance to external fire exposure from penetration through the roof construction and the spread of flame over the roof's surface.
The suffix '(t4)' you see above indicates that Test 4 is to be used.
It's often forgotten that a determining factor in which factor is required is how close the roof is to the property boundary – and therefore adjacent buildings.
That's why a B Roof(t4) classification would be the preferred option for roofing materials in densely populated locations since no distance is required between adjacent buildings. This classification is referred to as 'unrestricted' in England and 'low vulnerability' in Scotland.
What Does Test 4 Entail?
This test evaluates a roof's performance under the conditions of thermal attack with burning brands, wind and radiant heat. It tests external fire spread and penetration by fire. In the preliminary test, only one specimen is examined, and then three other specimens are assessed in the penetration test.
What Does A B Roof(t4) System Look Like?
If a roof system is classified as B Roof (t4), there will be no penetration of the roof system within 60 minutes.
During the preliminary test, specimens will burn for less than 5 minutes, once withdrawn from the test flame.
And, again, during the preliminary test, flame spread is less than 0.38m across the region of burning.
Conclusion
The role of the roof has changed somewhat in recent years. What was once seen as a way of making a building watertight has transformed into a valuable and practical commodity in commercial and residential buildings.
This is fueled by declining land availability, which has inspired developers and designers to utilise the roof space to create unique areas of enjoyment – such as roof terraces or the provision of additional residential space.
To unpick the question, do you have a B Roof (t4) certified system? You should closely consider the materials you are currently using/specifying in your projects.
For more information, speak to an expert at Buzon today.