The popularity of outdoor office spaces continues to surge within the UK and around the globe. More and more, property developers and managers are seeing the importance of outdoor spaces to improve morale, mental wellbeing, and the productivity of office workers.
Typically, an external flooring installation is going to involve high-quality pedestal systems and compatible pavers. However, each one of your projects will no doubt be different from one to the next.
To correctly assess all the possible obstacles and challenges of installing external flooring in office spaces, we have devised 5 key considerations to ensure that your project goes smoothly.
Slopes & Slope Correction
Perhaps the most common issue you will face in any external flooring installation, slope correction is a requirement in many decking, paving and decking installations.
These can vary from minimal inclines to huge disparities in ground levels. Slope correction is also an essential part of roof terrace installation, as it allows for the natural drainage of rainwater, avoiding permanent structural damage.
Looking beyond this, slopes are also implemented in areas to provide access to wheelchair users and therefore can be appropriately used in almost all public spaces.
When choosing your pedestals for an office space's external flooring installation, the DPH range and the A-PED come with slope correction of up to 5% already built-in. Other pedestals such as the PB, BC, and BC-FR ranges have accessories that fit onto the head or the base of the pedestal.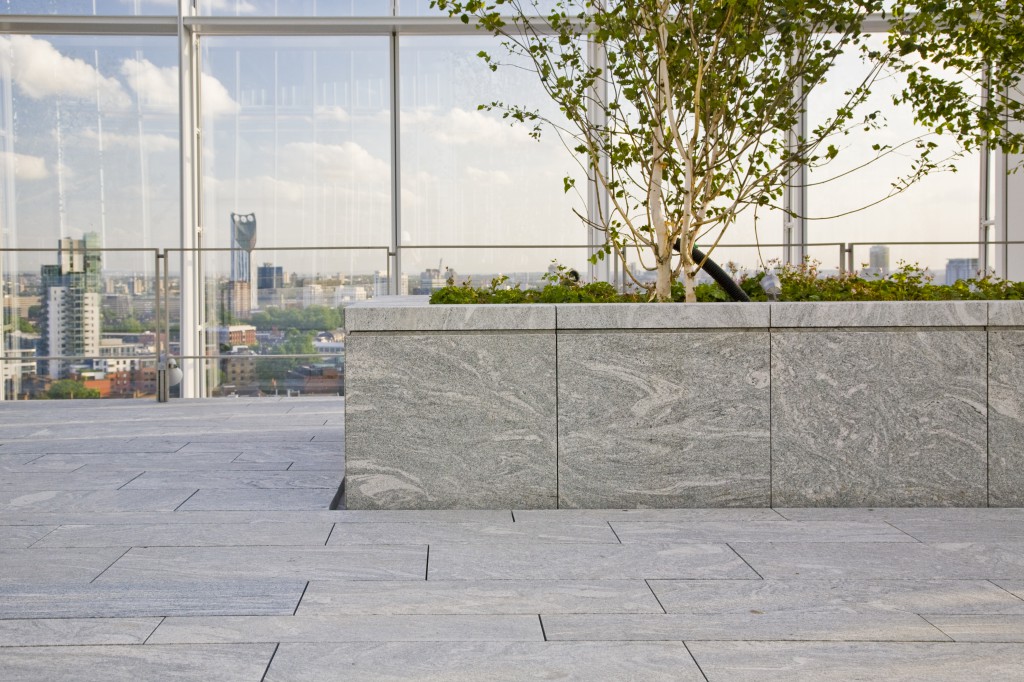 Fire Regulations In Outdoor Office Spaces
Under Building Regulations, the use of combustible materials in external walls and specified attachments such as balconies have been banned, in relevant buildings over 18 metres in height (11 metres in Scotland).
If your project includes balconies, then it is essential that fire-rating and Class-A fire-rated materials are your top priority.
Considering this early will be essential to save yourself project delays down the line or incur further costs for last-minute alterations.
For maximum fire safety, there are products such as the A-PED, designed to provide your project with a class A1 fire rating.
If your project requires a B-rating, pedestals such as the BC-FR range are one of the few pedestals available on the market with that meet the requirement.
Perimeters & Edging Products
Everyone likes a clean edge and maintaining uniform gaps between your pavers and around the edges of your installation is not only aesthetically pleasing, but crucial to meet regulations.
Buzon have two very clever products to meet that requirement, providing spacer tabs around terrace edges.
U-EDGE works where incomplete tiles, either regular or irregular pieces, make up the terrace edge; it allows for flexibility of spacer tab position on the pedestal head as well as uniform spacing along the edge.
U-WALL allows the supporting pedestal to sit very slightly away from the wall, whilst maintaining the position of the tile with perfect alignment to the edge and preventing any lateral movement.
Curves and corners can also be accommodated using these products.
Both products are compatible with all of our standard pedestal ranges, including the BC-FR. For A-rated requirements, we have the U-WALL-M which works with our A-PED range.
Location & Wind Uplift
We're fortunate that in the UK it's uncommon for the weather to be adverse enough to move pavers, however, it is something to consider, depending on the location of your office's external flooring installation.
Tall buildings in close proximity to each other increase the likelihood of wind vortexes which could cause wind uplift issues. It's always best to check with a qualified professional to assess what the risks are for a specific project.
For the rare occasions where wind uplift is a concern, the U-WASHER accessory has been designed specifically to give your pavers a more secure fixing, by physically locking them down to the head of the pedestals. Read our blog on wind uplift.
How Many Pedestals Will Be Needed?
Whilst every project will be different, there is a very clever way to calculate the required amount early on.
To help you in your calculations, Buzon offers a pedestal calculator for most of their ranges, with more coming in the next few months. This quick and easy, free tool will give you a better understanding of how many pedestals your external office space will require.
We recently wrote an article explaining how to correctly calculate your required pedestals needed for your paving project.
Conclusion
These were just 5 of our main considerations when working on external flooring projects for office spaces. As you can see, each one will be of varying importance depending on the location and requirements of your project.
By taking all of these into account, you can ensure you're putting your best foot forward as early as possible, during the design and specification stages.