Having an understanding of how many pedestals you will need for your project will help you to manage budget expectations more efficiently, whilst alleviating any logistical issues that may arise prior to works beginning.
And whilst every project presents its own unique set of requirements – from unusual paver configuration to the irregular shape of your proposed area – it is still possible to gain a rough understanding of how many pedestals (and accessories) you will need.
In this post, we share our advice and support – as well as pointing you in the direction of some free resources to make this process easier.
Read on…
Resources to Help You Calculate How Many Paving Pedestals You Will Need
On each of the pedestal range page pages (PB, BC, DPH, BC-FR, A-PED), you'll find a table that gives pedestal quantities based on some standard paver sizes with different-sized regular areas. Most tiles need a pedestal for each corner but note that larger format tiles might also need a central pedestal.
If you are not working with a standard square or rectangle, square off any odd-shaped areas and/or break up the space into several squares and rectangles as necessary. This will allow you to calculate how many pedestals you will need for each area.
Note: there will be an overlap of pedestals where the different squares and/or rectangles meet.
Adjustable Pedestal Calculator
For even more clarity on how many pedestals you will need, we have pedestal calculators for each of the ranges:
PB Pedestal Calculator, BC Pedestal Calculator, DPH Pedestal Calculator
BC-FR Pedestal Calculator (coming soon), A-PED calculator (coming soon)
Sign-up is very easy (and free) – and will give you a clearer understanding as to how many paver pedestals you will need, compared to the standard tables on the pedestal range pages.
To get full use of the pedestal calculator, key measurements are required:
Width and length of the area – Again, if not standard, break space up into numerous squares and rectangles.
Height of the fixed floor level compared to ground level – This will help determine which model of pedestal is required*
Tile depth
Outlet/gutter location
*Each pedestal has its own unique feature, which we explored in a previous week's post. In short:
PB – Enlarged surface head for larger paving stones
BC – For unusual paver configuration and non-standard paving
DPH – For strength, durability and where slope correction is a definite requirement
BC-FR – All the features of the BC range, but offering a B-Rated fire-rating
A-PED – Class A1 fire performance for high-rise developments
If your area presents numerous challenges (for example, if the ground level height varies or you are using a mix of finishes and landscaping), you may need different pedestal ranges across the project. This is perfectly normal and will make for a much more efficient, top-quality outcome. Our One Tower Bridge case study demonstrates how multiple pedestal ranges can be used alongside each other.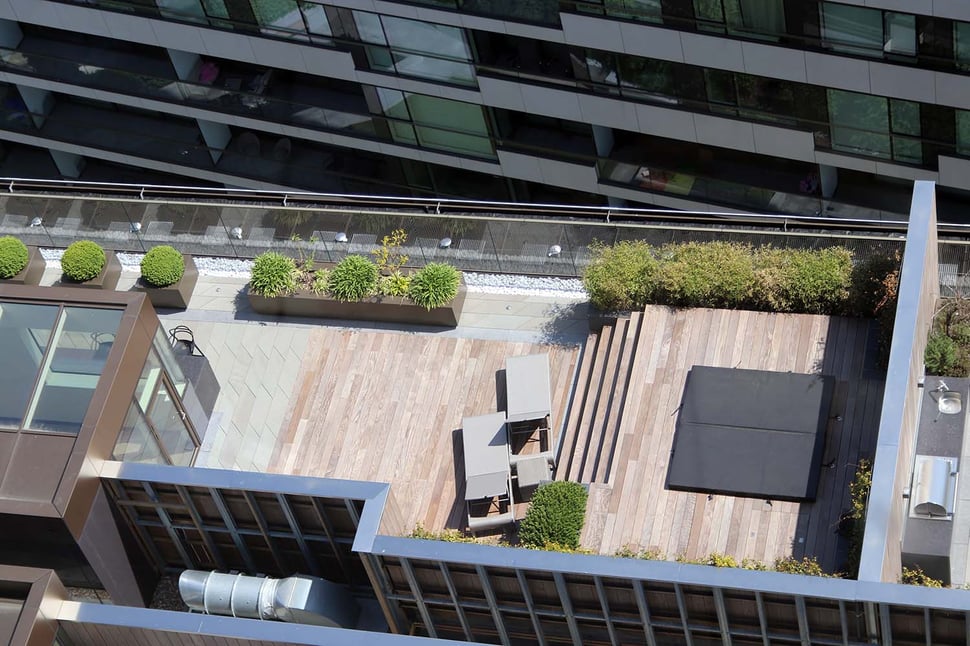 Version 3 Pedestal Calculator Out Soon!
The current pedestal calculator (version 2) will calculate how many pedestals are required, which models, the number of shims and the number of spacer tabs. In most cases, this provides more than adequate information for you to organise your budget proficiently.
However, a more advanced pedestal calculator - version 3 - will be released soon. This will provide even more additional features – notably, it will work out which accessories you will need.
Each of the Buzon ranges has its own set of accessories, including slope correction, membrane protection, joist support, couplers, edging products and much more. Researching these individual accessories can be quite overwhelming and time-consuming, particularly if you're working to a tight schedule. The latest pedestal calculator – which will be released soon – will remove a large chunk of your research process, providing you with clear guidance on what accessories you will need (and where).
If you or your team requires additional support on pedestals and accessories, we offer CPD for architects and design professionals. Get in touch if you'd like us to deliver a session for you.
Adjustable Pedestal Installation Resources For Rectified & Non-Rectified Areas
Installation guides can also give you an accurate idea of how many pedestals you will need, as well as other considerations around areas that exceed the standard 90° angle.
Here's an example of the full installation guide for the BC range. Get in touch if you'd like any further installation guides, or have a look in our resource centre.
Don't Forget to Consider Finishing Products
Edges, grating and step hangers are just a few finishing products that need careful consideration when calculating the number of pedestals you will need, and it is advisable to count the pedestals around the perimeter of your area to give you the number of edging accessories you'll likely need.
Examples of edging accessories include:
There may also be areas where pedestals are required but obstacles (such as utilities or awkward shapes) may prevent the adequate fixing of the pedestal. In this instance, a rail-based solution such as ALUrail may be recommended as an option.

ALUrail is an aluminium rail-based system. It provides a full build-up and has been designed as a simple, effective solution for exceptional areas with technical challenges – from irregularly shaped balconies to instances where the void is limited.
Conclusion
Calculating how many pedestals you will need is the first step. A site survey to identify size of area, datums and obstacles will be necessary once your project is further into development.
We always advise people to allow for a certain number of additional products. This will compensate for any obstacles that may not have shown up on the initial plan.
We also advise people to always consider shims if working on a paving project. Shims enable the installer to adjust the height of any unrectified pavers as well as help to deaden sound underfoot.
Please note – the guidance in this article relates to regular shaped tiles. The BC and BC-FR ranges are designed to cope with irregular shapes as well as regular shapes. In this instance, the team at Buzon will provide additional support orpedestal calculation.
Of course, we are always here to help with advice on calculating pedestals. We advise our clients with complex plans to provide CAD files and drawings, as well a 7-day working window. For any further support, don't hesitate to speak to an expert today.