If you are planning to install decking for your commercial or domestic project, it is useful to know how many pedestals (or 'decking joist supports' as they are sometimes referred to) you may need.
Obtaining this information at the design stage will help the contractor and/or client to manage budget expectations more efficiently, mitigating any unexpected financial surprises further into the project.
By using our pedestal calculators, it is relatively simple to obtain this information, and in this post, we aim to explain the pedestal calculation process further.
Read on…
Key Elements That Determine the Number of Decking Pedestals Needed
There are two key elements that determine the number of pedestals needed for a decking application. They are:
Joist centres
Pedestal centres
Joist centres refer to the maximum allowable distance between supporting joists and will differ according to the size and other characteristics of the deck boards used. There are a multitude of timbers and composite boards to choose from, with The Outdoor Deck Company providing a wide choice to suit your design requirements; suppliers should be able to tell you what joist centres are required.
The below illustration demonstrates the joist centre configurations for Alfresco Floors' composite, fire-rated deck board, ZERODECK.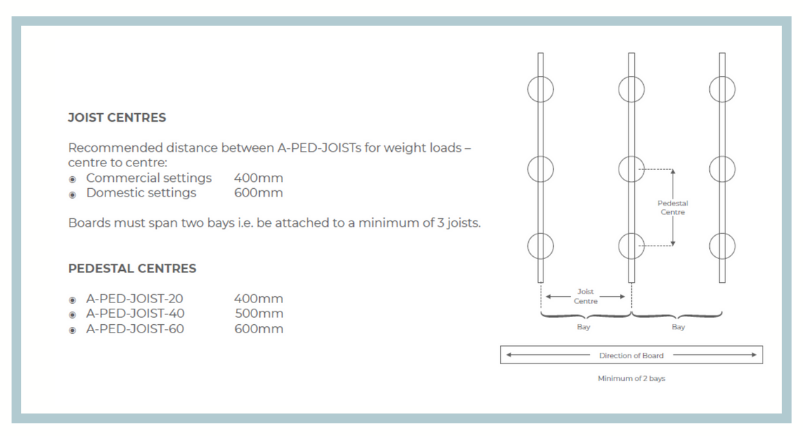 Notably, joist centres differ between commercial and domestic settings, with the former required by regulation to safely support a higher footfall, hence the narrower joist centre.
Pedestal centres will depend on the size and type of joist used and refer to the maximum distance between pedestals along the line of the joist. Stronger joists will require fewer pedestals to support them.
Average Number of Pedestals Required Per M2
Calculating the number of pedestals for deck boards is arguably easier than that of pavers since sizing configurations are much more standard. With pavers, you may be working with unusual and intricate shapes, making the calculation of pedestals (and indeed associated accessories) a little more complex. We cover this and more in a recent blog post; click here.
For non-standard layouts, we recommend you break up the space into several squares and rectangles, helping you calculate how many pedestals you will need for each area. Don't forget that there will be an overlap in areas, and therefore you will need to adjust your calculation so that you don't double count.
Pedestal Calculators
For the PB, BC and DPH pedestal ranges, you can use a specific tool (the pedestal calculator) to calculate the number of pedestals needed. Sign-up is free – and it will give you a much clearer picture of how many decking pedestals you will need, compared to the standard tables on the pedestal range pages.
Key Measurements Required
To get full benefit from the pedestal calculator, key measurements needed are:
Width & length of the area
FFL (Finished floor level - measured from the pedestal base to the top of the decking)
Deck board depth
Joist height
Outlet/gutter location
And of course, your pedestal and joist centres.
As each site is unique, we always recommend a site survey so that you can fully understand your requirements.
Note: we will be launching an updated version of the pedestal calculator which will calculate what accessories you will need, as well as how many pedestals you will need.
Conclusion
Understanding how many pedestals you will need is a crucial step in ensuring your project stays within budget. There are many variables that determine the number of pedestals you will need, so using the pedestal calculators will help save you time and energy.
A site survey to identify the size of the area, datums and obstacles will be necessary once your project is further into development.
If you'd like to talk to us about your decking project, don't hesitate to get in touch.