There's no denying that the way we work has changed at an accelerated rate. Employees are seeking more flexibility in both how they work and the spaces in which they do so.
Within this era of change, the way commercial offices look, and function is also evolving; as landlords, architects and developers of commercial office developments respond to the recent demand for more diverse workspaces and an emphasis on wellbeing.
Following this trend, outdoor spaces are becoming increasingly commonplace, as employers are competing for the best workers by using outdoor amenities and biophilic design principals to demonstrate their commitment to their employees' wellbeing.
So why are outdoor spaces now essential for commercial office developments?
Outdoor Office Spaces and Wellbeing
Post COVID-19, wellbeing is the word on everybody's lips. The importance of both mental and physical health has been brought into sharp focus after multiple years of working from home.
Work-related stress can cause an array of issues for employees. This can range from work performance issues, negative moods and even serious health problems in some instances.
Betterhealth reports that one of the most important factors of work-related stress is the employee's physical environment. Poor lighting, bad acoustics and oppressive spaces are just a handful of ways in which the everyday worker can be negatively impacted at work.
The solution is glaringly obvious for these architects and developers: outdoor office spaces.
A change of scenery, fresh air and natural sunlight have been proven to increase mood-levels and productivity time and time again. Not to mention the preventative benefits outdoor spaces offer as we recover from a global pandemic (more on this later on).
Biophilic Design In Outdoor Workspaces
An upcoming trend, biophilic design centres itself around enhanced productivity and improved wellbeing through a closer connection with nature.
Green spaces that provide open-plan and breathable working areas are becoming increasingly more sought after by employers and employees alike. Hand-in-hand with this design trend is the requirement for more sustainable businesses and buildings between now and 2030.
Office balconies, patios and other external spaces are the perfect opportunity to create excellent working conditions for employees, as well as embracing sustainability and 'green spaces'.
External Flooring Systems
To achieve these outdoor workspaces, systems such as adjustable decking pedestals facilitate the installation of decking (or paving) on any floor type, which can be used as outdoor workspace or relaxation spaces for office workers.
Notably, Buzon worked on the development of 33 King William Street by providing our innovative pedestal system to support Iroko timber decking for this outdoor office workspace. As the pedestal system was quick to install, cost-effective and incredibly strong, the property developers were easily able to achieve a complex exterior terrace to meet the growing trends of recent years.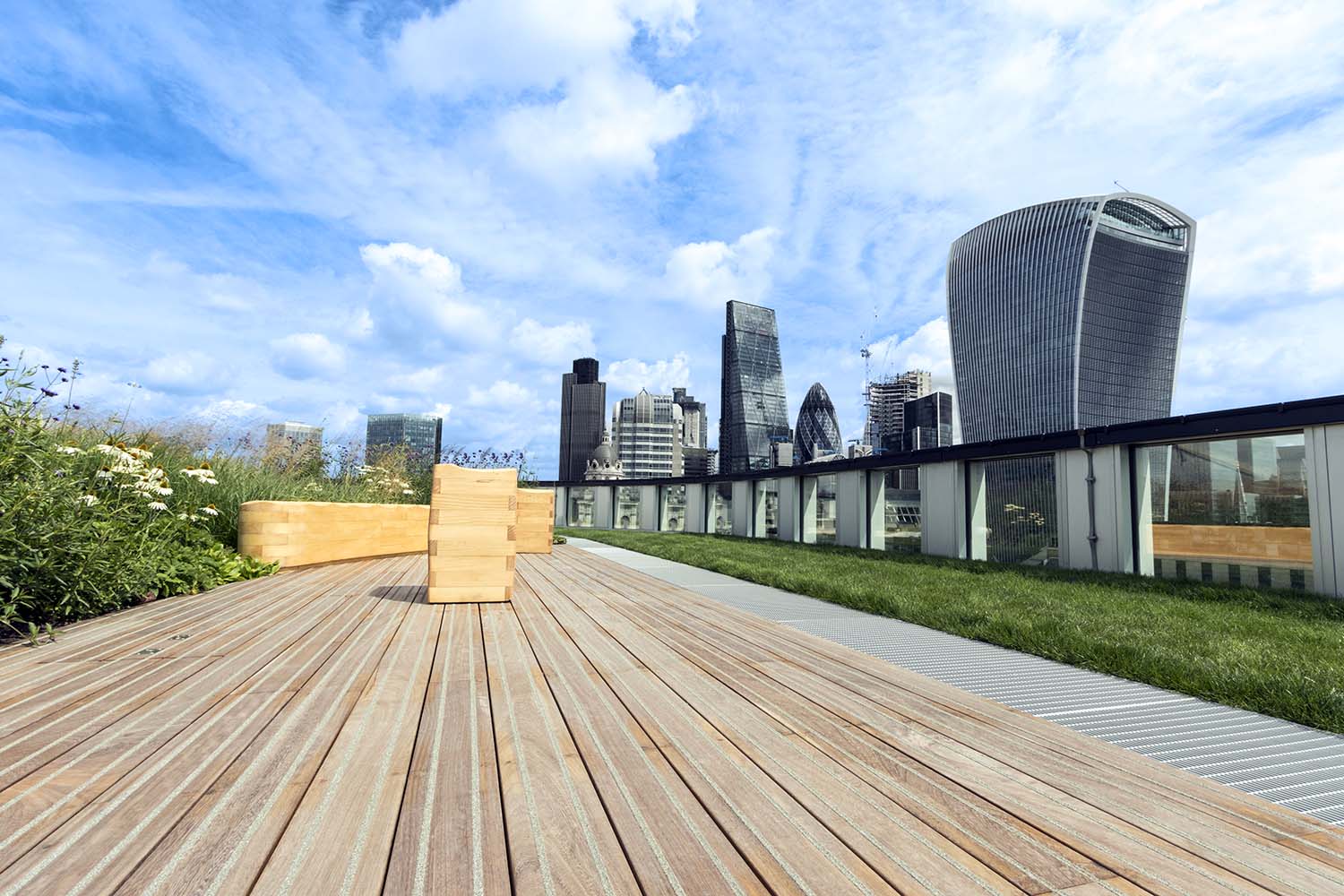 33 King William Street - Buzon Case Study
The Need For Outdoor Workspaces in 2022
As powerhouses like Google look to reduce their office density, smaller businesses are finding alternative options to keep their employees safe and healthy. Outdoor workspaces benefit mental wellbeing as well as promoting safer working environments.
The increased need for social distancing, cleaning and lower office densities are perfect motivators for commercial office developments to embrace these outdoor office spaces.
Because of this, disused outdoor areas are being converted into functional terraces, patios and decking for added workspaces all over the world.
Clever Decking Pedestals
The biggest concern architects, property developers and specifiers face right now is the lack of knowledge around logistics. Many believe that constructing these outdoor workspaces is time-consuming and costly, which would stretch their budgets too far.
Fortunately, there are clever systems out there that make designing external terraces a painless endeavour and don't break the bank. Pedestal systems, like the DPH, PB and BC range that work in a variety of applications, whilst being extremely flexible and cost-effective, are helping projects all over the world to achieve their desired external spaces.
Additionally, for those requiring a fire-rated solution, systems such as the BC-FR and the A-PED can be used to meet the newer fire-rating requirements outlined in the building regulations. For outdoor spaces classified as roofs, we can also offer certified BROOF(t4) systems.
Conclusion
Outdoor spaces are more crucial in commercial office developments than ever before. As businesses navigate a post COVID-19 world, wellbeing and safety are paramount and are only supported by functional outdoor workspaces.
If you're looking to create outdoor office space in your next commercial office development, take a look at the Buzon range of adjustable pedestals to achieve your desired raised external flooring.
If you have any questions, just ask – advice costs nothing and we are on hand, with no worry of obligation.
If you need any more information on the subject, feel free to call us on + 44 (0)20 8614 0874 today.
Alternatively, you can let us know your query by filling in the form below and an expert will be in touch soon. We look forward to hearing from you.