If your project or scheme requires you to specify class B-rated materials for your external flooring application, it's important to understand what options are available.
If you are working on a residential building below 18 metres in height, you are not restricted by the requirement for A fire-rated materials for specified attachments, however there are also many other scenarios where you will want to use safer options than the standard available. This will be made clear by the fire safety expert assigned to your project.
In this post, we explore how you can achieve a B-rated composite deck that not only meets regulation, but looks great, too.
Read on to find out more…
The Whole Flooring System Should Be Considered
When you're researching fire-rated flooring materials for your next project, it is important to look at the system as a whole. In other words, you should be considering both deck boards and adjustable pedestals – alongside other components that you're likely to be using as part of your application.
If you're aiming to achieve a B-rated external flooring solution, you will want all components to be B-rated.
So, what options are there?
The Buzon Fire-Rated Adjustable Pedestal & Accessory Range
Whilst there are increasingly some great A-rated options available, there are very few, if any, B-rated options and we are willing to say none that offer the functionality that the Buzon BC-FR range promises.
Why?
Because the design experts here at Buzon have taken our popular BC Pedestals and developed a fire-rated version, which offers the same level of functionality as the BC range, including:
- Adjustable height of 11 to 1025mm
- A multi-angle head
Additionally, the BC pedestal accessories have also received a fire-rated makeover. These include edging products, spacer tabs, joist supports and slope correction, meaning you can do all the same things that you can with the standard BC range.
What Makes Them Fire-Rated?
The Buzon BC-FR pedestals and accessories are made with polypropylene with fire retardant additives. This makes them highly resistant to flame spread. These self-extinguishing pedestals have been tested to BS EN 13501-1 standards and have been awarded a Bfl-S1 rating.
Fire-Rated Surface Options
Our fire-rated pedestals can be used with naturally A-rated paving or tiling (e.g porcelain, natural stone, concrete) or they can be used with B-rated composite decking such as Grad composite deck boards.
We'll now explore your options for composite decking.
What is Composite Decking?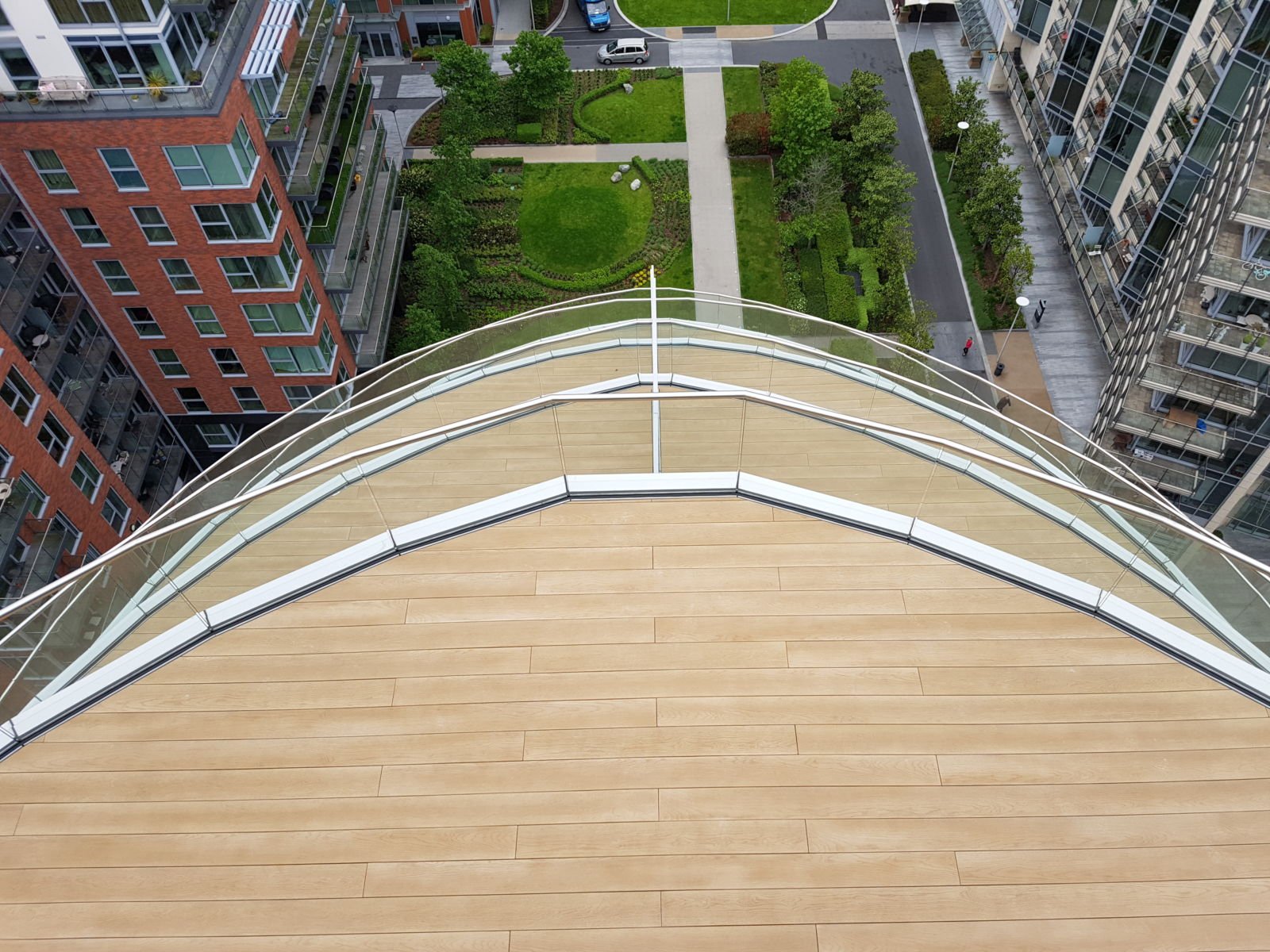 Typically made by combining both natural hardwood fibres and synthetic materials, composite decking is a man-made alternative to natural wood decking. Not only does it look like natural wood, but composite decking is also considered to be durable, rot and algae resistant, easy to install and environmentally friendly, whilst requiring minimal maintenance.
Composite decking is an extremely versatile material. It combines the traditional appearance of timber, yet with the durability and resilience of engineered composite, resulting in a range of products that are ideal for numerous applications, including:
- Domestic decking
- Residential decking (including balconies)
- Demanding commercial applications (hotels, around swimming pools, terraces and boardwalks)
Composite decking encourages landscapers, architects and specifiers to look beyond traditional timber decking and seek a solution that is not only attractive, but future proof.
The Outdoor Deck Company composite decking range is available in a variety of widths and surface finishes to suit every project need.
Alternatively there's nothing to stop you from choosing an A-rated finish - consider A-rated mineral composite ZERODECK from Alfresco Floors.
Conclusion
So, there you have it: how to create a B-rated composite deck.
Remember, it's not just about the composite deckboards. You should closely consider EVERY component that's involved in the installation to ensure you're meeting Building Fire Regulations.
To find out more, talk to an expert at Buzon today.