When designing and installing external flooring projects, finding products that promote versatility and adaptability is paramount.
Installers often encounter challenging scenarios, from irregularly shaped spaces to restrictive height requirements. To provide the perfect support for these spaces, it's essential that specifiers have access to quality products and ranges that accommodate these challenges.
Essential components in the construction of raised external flooring, pedestals act as the backbone of a versatile and efficient system. These structural supports not only offer stability but also enable installers to create perfectly level floors, making them indispensable for outdoor spaces.
In this blog, we'll explore three new game-changing products: the U-TOP-FLEX for irregular tile shapes, the U-EXTENDER-30, a modular accessory which enables adjustable heights, and the PB-0-S12, Buzon's lowest adjustable pedestal yet. Discover how these accessories and pedestals open up a world of possibilities for installers, making projects a breeze.
U-TOP-FLEX: Conquering Irregular Tile Patterns With Flexible Pedestal Accessories
The world of architecture and design is anything but square, and as such, non-rectangular tiles have become increasingly popular to help create unique external floors in all kinds of spaces.
Installing these tiles can be a daunting task for many construction professionals.
Enter the U-TOP-FLEX, a game-changing accessory from Buzon UK designed to simplify the installation of tile shapes such as hexagonal and triangular. These unconventional tile shapes, while stunning, often present challenges when it comes to achieving precise alignment and uniformity when used with some pedestals.
The U-TOP-FLEX, when attached to the head of Buzon PB or DPH pedestals revolutionises this process. Its innovative design ensures that these tiles can be effortlessly positioned and perfectly spaced using the compatible U-TAB spacer tabs, eliminating the complexities associated with non-standard shapes or irregular layouts. When combined with the U-TOP-FLEX-SHIM, slight variations in tile thickness can be rectified, and local acoustics are dampened.
Moreover, using the U-TOP-FLEX accessory retains the key benefits of the pedestals, such as full-height adjustability and load-bearing capabilities. This means that even with the quirkiest tile shapes, your flooring remains stable, level, and long-lasting.
Engineered with installers in mind, it empowers installers to embrace creativity and diversity in design without making sacrifices on ease of installation. It's the go-to solution for conquering the challenges of non-rectangular tiles and achieving impeccable results in any architectural project.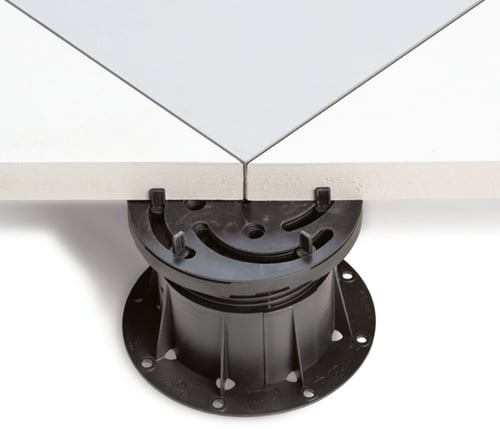 U-EXTENDER-30: Reaching New Heights With Pedestal Extenders
When installing external floors on areas such as roof terraces or balconies, adaptability is key, especially when it comes to adjusting the height of pedestals to meet the demands of the project.
In an all too common scenario, contractors can sometimes find that the original plans differ from the reality that they find on-site and that the pedestal model ordered differs from what is actually required.
The U-EXTENDER-30 emerges as an efficient and cost-effective solution.
Now contractors on site can quickly accommodate a height difference with extenders, eliminating the need for replacement pedestals which can be time-consuming.
Engineered to be compatible with Buzon's PB, BC, and DPH pedestal ranges, the U-EXTENDER-30 offers an invaluable 30mm extension that effortlessly fits beneath the pedestal base. This modest addition has a significant impact.
In scenarios where your project requires the pedestals to compensate for uneven substrates, for example when working on a roof terrace that has been laid to fall, the U-EXTENDER-30 is also compatible with the U-PH5 slope corrector which goes underneath the extender unit and allows millimetre-precise correction.
The U-EXTENDER-30 pedestal accessory enables you to reach new heights, quite literally. What's more, these extenders are stackable, allowing for a maximum additional height of 120mm when four U-EXTENDER-30 units are combined.
This versatility ensures that no installation challenge is insurmountable. Whether it's creating a level surface for a rooftop garden, accommodating changes in terrain, or adjusting for precise architectural specifications, U-EXTENDER-30 ensures that your pedestal system can rise to the occasion.

PB-0-S12: Simplifying Roof & Balcony Floor Installations With Low Pedestals
Not all construction projects are equal. In fact, many balcony and roof installations encounter issues related to small voids, which present their own unique set of challenges.
Recognizing the need for a solution that was simple and efficient in these scenarios, the PB-0-S12 was engineered to become the lowest adjustable pedestal in the PB and DPH series.
Low pedestals are essential for combatting small voids in your applications, particularly in balcony and roofed areas. If BROOF(t4) is a requirement, the PB-0-S12 is part of tested build-ups with specific waterproofing and finishes - contact us for more details.
With an adjustable range between 12 and 18mm, the PB-0-S12 may be the shortest adjustable model in the PB and DPH series, but it still maintains the same structural integrity and load-bearing capacity as its taller counterparts, providing a stable foundation for your outdoor projects.
With minimalistic design and straightforward setup, products such as the PB-0-S12 simplify floor installation projects, reducing installation time and effort. Whether you're creating a functional access terrace or a recreational roof terrace, the PB-0-S12 ensures a perfect result, whatever the finish.
Conclusion
In the realm of external flooring projects, the significance of adaptable solutions cannot be overstated.
Installers constantly encounter unique challenges, from irregularly shaped spaces to restrictive height requirements. By introducing versatile products like U-TOP-FLEX, U-EXTENDER-30, and PB-0-S12, we can empower installers to surmount these hurdles with ease.
These innovations underscore the importance of finding flexible solutions that simplify the complexities of external flooring projects, making them more efficient and accessible for construction professionals in various scenarios.
If you're looking for stunning external flooring in your next development, take a look at the Buzon range of adjustable pedestals. With 5 ranges of pedestals, including two fire-rated options, and a whole host of technical features that will support any design choices and technical requirements.
Did you know we also offer site-specific advice, surveys and training (subject to location)?
If you'd like to discuss your requirements further, don't hesitate to speak to an expert by calling us on +44 (0)20 8614 0874 or emailing info@buzonuk.com.