People sometimes ask whether adjustable pedestals can be cut in half as a solution for dealing with walls and the edge of terraces. This may seem like a perfectly reasonable question when you are considering how to resolve the edges of a terrace where the dimension of the pedestal heads won't allow tiles to get close enough to the wall.
However, by cutting the pedestal in half, you are not only removing many other desirable properties, you are destroying the pedestals integrity, strength and load bearing qualities.
Instead, there are more effective solutions to dealing with terrace edges, and in this post, we'll aim to shed light on what these options are and what they can do for you.
U-Wall Support Tool
The first solution in dealing with terrace edges (and something that will stop your installers from taking a saw to your pedestal) is the U-Wall. It works when you have complete tiles meeting terrace edges.
The U-Wall slightly extends the head of the pedestal and creates a perimeter stop, allowing a whole pedestal to sit underneath a paver whilst the edge of the paver is fully supported and neatly meets the terrace edging, creating a uniform 5mm drainage gap without interference from the circular diameter of the pedestal head.
The U-Wall can be fixed securely to the pedestal head and utilises the existing spacer tabs. It cleverly manages curves as well as straight edges and corners.
U-Edge System
The U-Edge works in a similar way, very slightly extending the pedestal head and allowing the pedestal to sit away from the wall, however this accessory works in the scenario where small cuts of tiles are required in order to complete the terrace.
The U-Edge has a selection of independent spacer tabs that can be attached to accommodate any shape of tile, and so works really well where the terrace edge is not perpendicular to the lay of the tiles and diagonal cuts are required.
Can The Pedestal Be Used Upside Down?
In certain circumstances, pedestals can be used upside down. This is advantageous as generally pedestal heads are smaller in diameter than their bases, so this orientation frees up room on the ground, in some cases up to 50mm. This is particularly helpful when working with edges, for example, if the base of the wall has an upstand or utilities running next to it.
With Buzon products, this is possible in our DPH range of pedestals, where the underside of the base of the pedestals have been designed to fit spacer tabs and other accessories.
Here's a video to explain how this can be achieved.
To view this in further detail, below we have some illustrations to demonstrate how the pedestals can be turned upside down: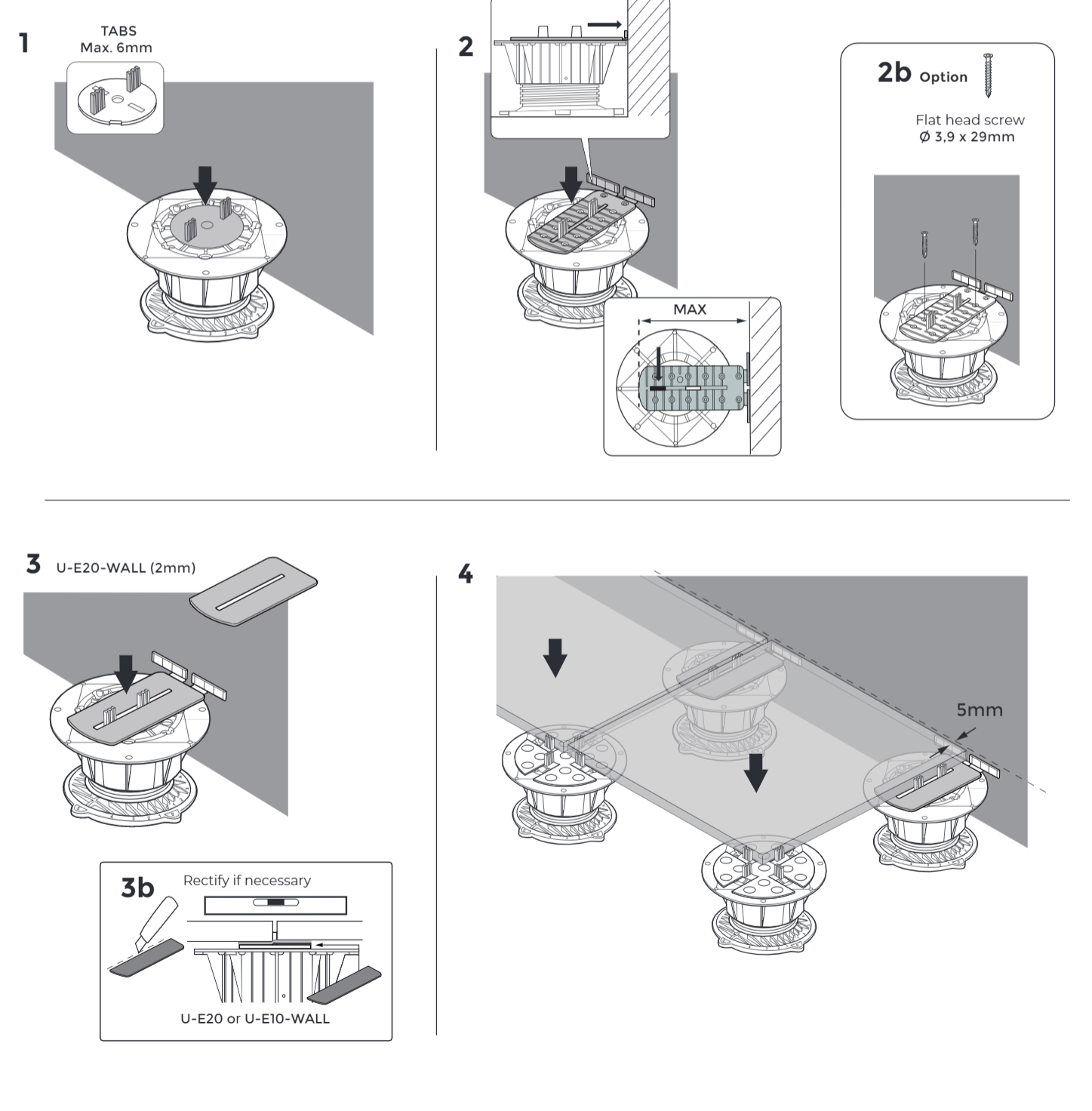 Conclusion
The question is,
Can you cut pedestals in half?
Our answer is not 'yes' or 'no' – it's… don't!
When you use any of the Buzon adjustable pedestal ranges, you ought to take advantage of the accessories that have been designed specially to work alongside it to help you deliver excellent results.
And importantly, our warranty will not apply.
We are always happy to share our extensive technical knowledge; please don't hesitate to call us if you have questions about challenges you are facing on a particular site.
For more information, call +44 (0)20 8614 0874 or email info@buzonuk.com