All over the world, designers, developers, and business owners are looking for fresh new ways to improve their commercial office spaces. New trends towards outdoor working spaces are on the rise, and not just for aesthetics.
The benefits of outdoor work on our mental health are astounding. As discussed in our recent blog, dedicated outdoor office spaces can increase productivity and reduce common incidences, like headaches, by up to 63%.
For that reason, we mustn't underestimate the power of clever outdoor space design. Here are some landscape design ideas that you can use as a springboard for your next outdoor office space project.
Seating For Your Outdoor Office
Perhaps the first thing that comes to mind when thinking of outdoor relaxation areas: is outdoor seating. An outdoor space that workers can use as a common area, enjoy group lunches or even hold alfresco meetings will catapult your worker's self-esteem in the workplace.
Outdoor seating can be taken to a different level than typical indoor office seating. Be creative and remember seating can be anything from simple picnic stalls to carved and contemporary benches.
The key to these areas is to make them comfortable, for both office workers and potential clients and visitors who visit the offices.
Buzon's Approach to Outdoor Office Space Seating
During Buzon's work on 33 King William Street, the teams involved worked hard to construct an outdoor office space that was functional and breathtaking. By using an innovative range of pedestal systems, they were able to create a spacious roof terrace complete with modern wooden benches.
The result was a stunning outdoor office space offering panoramic views of London for the office workers to enjoy.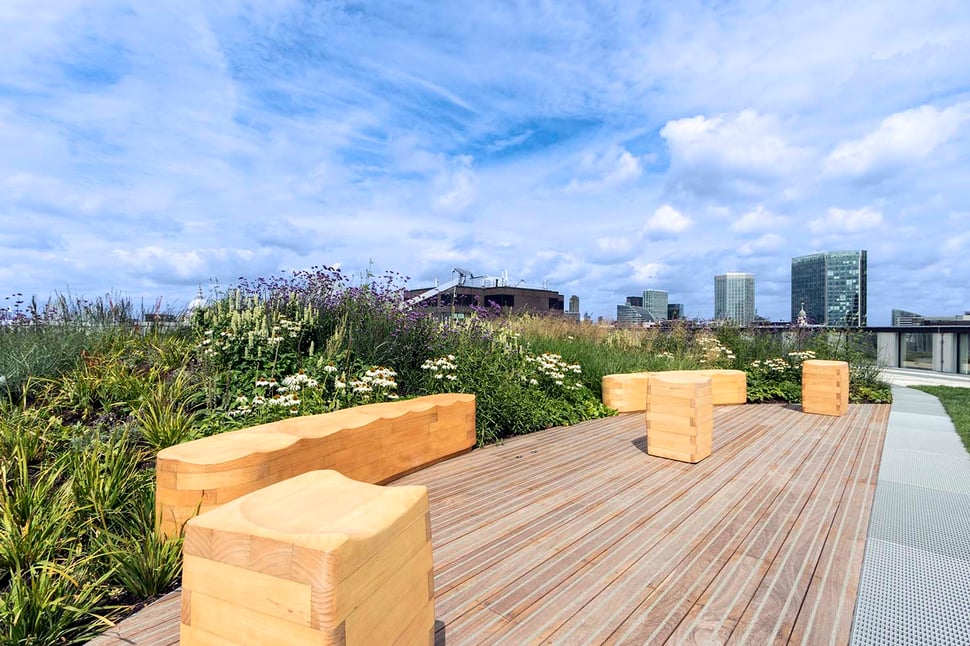 Reflective Spaces For Your Outdoor Office
Collaborative outdoor spaces, as mentioned above, are very important. Equally so are spaces for workers to relax, reflect and recover. These spaces only have to achieve one goal: tranquillity.
These reflective spaces can be minimalistic and are a great way of implementing biophilic design, and benefit from the countless mental health benefits this new trend offers workers.
Small gardens, bench areas surrounded by foliage or small arboretums are just some of the ways you can offer respite from the day-to-day of office life to your office inhabitants.
Buzon's Approach To Reflective Spaces
In 2018, Buzon assisted in the completion of a brand new outdoor office space for 2-6 Cannon Street. Challenged by an unusually shaped roof and powder-coated steel planters that were strategically located in the centre of the terrace, the DPH pedestal system was used to overcome this.
The finished project now offers office workers and visitors a spot of tranquillity, with minimalistic design and biophilic features such as gardens and planters.
The great thing about green outdoor spaces is that they are continually evolving, as plants grow and the seasons change. See how beautiful the terrace looks in full flower here.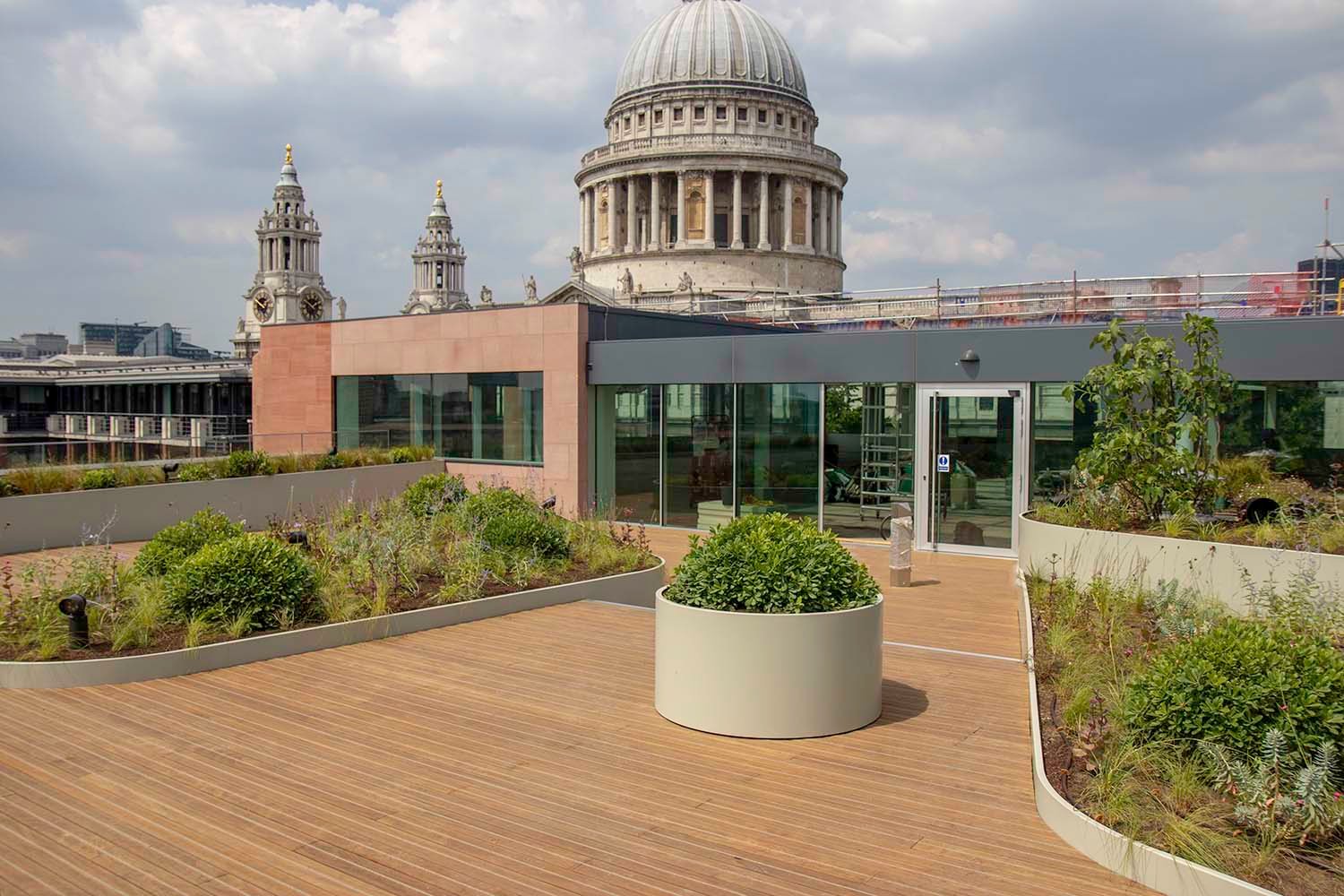 Functional Spaces For Your Outdoor Offices
Impeccable design is achieved when function and form symbiotically, with one not overpowering the other. When designing your outdoor office space, remember to keep the purpose of these spaces in mind.
Lighting, seating areas, ramps and staircases should all make sense for the space you are designing. The reason is quite simple, if the space isn't functional people won't use it, therefore defeating the purpose.
Buzon's Approach To Functional Outdoor Offices
Recently, we were commissioned to implement a new landscaped space at the front of 245 Hammersmith Road. The completed space now offers innovative terraces, an impressive plaza and its bespoke podium garden.
Buzon supplied and installed the DPH and ALUrail pedestal systems to provide the perfect base for the rest of this project to be built. Clever lighting and considered timber decking and seating complete the functional outdoor space.
By incorporating all of these many elements into one functional area, the result is an incredible public space covering more than 2,500m2.
Buzon is proud to say they were part of this multi-award-winning project, which won a Nancye Goulden Award in 2021 for its impact on the local environment and most recently won the Commercial Build category at the 2021 Pro Landscaper Podium Awards.

Conclusion
These are just some of the key elements you can include in your next outdoor office to get the most out of your space. Outdoor working comes with a whole range of benefits for workers, so we must remember the importance of this, during the design process.
If you're looking to create outdoor office space in your next commercial office development, take a look at the Buzon range of adjustable pedestals to achieve your desired raised external flooring.
If you have any questions, just ask – advice costs nothing and we are on hand, with no worry of obligation.
If you need any more information on the subject, feel free to call us on + 44 (0)20 8614 0874 today.
Alternatively, you can let us know your query by filling in the form below and an expert will be in touch soon. We look forward to hearing from you.